Joomla adalah pemenang penghargaan Content Management System (CMS), yang memungkinkan Anda untuk membangun situs Web dan aplikasi online yang kuat. Banyak aspek, termasuk easy-to-use dan extensibility, yang telah membuat Joomla menjadi Web site software paling populer. Bagusnya, Joomla adalah open source solution yang tersedia secara gratis untuk semua orang
Anda Pasti pernah mengalami kesalahan atau error pada saat memindahkan aplikasi joomla anda dari satu server ke server lain, mungkin saja error seperti yang anda alami :
JaringanHosting.com adalah provider ASP.NET dan Windows hosting No #1 di Indonesia sesuai dengan rekomendasi dari pihak Microsoft. Microsoft memberikan rekomendasi ini berdasarkan pada beberapa persyaratan utama, yaitu: WebMatrix, WebDeploy, Visual Studio 2012, ASP.NET 4.5, ASP.NET MVC 4.0, Silverlight 5 and Visual Studio Lightswitch. Untuk keterangan lanjutan, silahkan klik disini!
jtablesession::Store Failed
DB function failed with error number 1146
Table 'cms.jos_session' doesn't exist SQL=INSERT INTO jos_session ( session_id,time,username,gid,guest,client_id ) VALUES ( 'bch10s603gm5d8ljd5jbmhn4i4′,'1232128272′,",'0′,'1′,'0′ )
Untuk mengatasinya sangatlah mudah, silahkan ketikkan script dibawah ini pada mysql anda :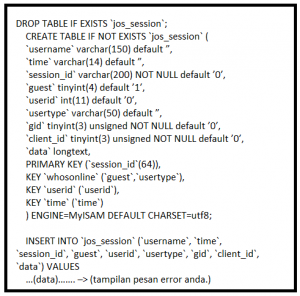 Demikianlah tips singkat untuk memindahkan aplikasi joomla, semoga membantu.