Ketika anda membuka aplikasi Silverlight 4 pada Silverlight 5 mendapatkan pesan kesalahan seperti berikut ?
error : Unable to read the project file 'Silverlight4App.csproj'.">-error  : Unable to read the project file 'Silverlight4App.csproj'.
Silverlight4App.csproj(137,3): The imported project "C:\Program Files\MSBuild\Microsoft\Silverlight\v4.0\Microsoft.Silverlight.CSharp.targets" was not found. Confirm that the path in the <Import> declaration is correct, and that the file exists on disk

Jangan khawatir, kesalahan seperti ini terjadi karena aplikasi ini sebelumnya dibangun dengan menggunakan Referensi  Silverlight  4 . Jadi pada saat membuka aplikasi tersebut dalam Silverlight 5 , Visual Studio mencari file referensi Silverlight 5 tetapi tidak dapat ditemukan.
Bagaimana mengatasinya ?, ikuti langkah-langkah berikut ini :
– Buka proyek dalam Visual studio
– Ke solusi explorer
– Klik kanan pada proyek yang tidak dimuat dan klik edit file CSPROJ, seperti gambar di bawah ini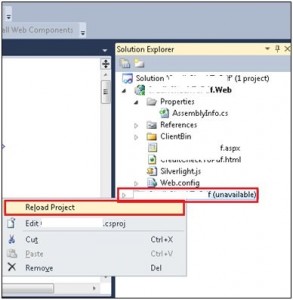 – Kemudian ubah Target Frame Work version 5.0

– Simpan dan tutup file tersebut dan sekali lagi klik kanan pada proyek yang tidak dimuat dan klik pada proyek Reload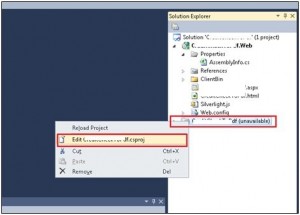 – Sekarang proyek ini akan dimuat ulang dan berhasil..
Langkah-langkah diatas bertujuan untuk mengkonversi aplikasi Silverlight 4 Anda ke aplikasi ke Silverlight 5 . Jika anda ingin mengembalikan aplikasi anda kembali ke Silverlight 4 hal yang perlu dilakukan adalah dengan mengulangi langkah di atas dan mengatur versi Target Framework untuk " v4.0″ .
Anda mencari Hosting Silverlight 4 atau Silverlight 5 ?

JaringanHosting.com adalah provider ASP.NET dan Windows hosting No #1 di Indonesia sesuai dengan rekomendasi dari pihak Microsoft. Microsoft memberikan rekomendasi ini berdasarkan pada beberapa persyaratan utama, yaitu: WebMatrix, WebDeploy, Visual Studio 2012, ASP.NET 4.5, ASP.NET MVC 4.0, Silverlight 5 and Visual Studio Lightswitch.Untuk keterangan lanjutan, silahkan klik disini!